Note: Yesterday, at some time in the morning, PST, a judge signed off on the adoption decree for my (former) foster son CJ. I can't be sure, but this is likely the first time in internet history that a blogger has legally adopted another blogger.
The adoption was delayed for several weeks because some nutjob crashed a pick-up truck into the courthouse, set it on fire, and then had a standoff with police.
Which, if you knew CJ, is absolutely appropriate.)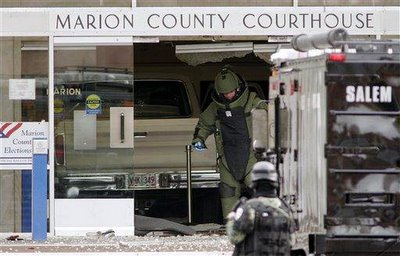 1. Little Known Superheroes #374: The Green Condom.
2. "Excuse me," the dyslexic UPS man asked. "I have a truckload of MALES to deliver. Can you direct me to Andrew Sullivan's house?"
3. Desperate to end the stand-off, the police sent in the Michelin Man's brother to try and talk him into coming out peacefully.
4. "... Okay, the driver was 93 years old. Did anyone have 93 in the pool? Anyone?"
5. "Apparently, he missed a turn while arguing 'put out or get out' with his step-daughter." The best episodes of
Cops
are always set in Florida.
6. "I come to you with an urgent message: Mars Needs Women."
7. Worst Marketing Concept of All Time: The Luby's Cafeteria Drive-Thru.
8. "The driver claims he was distracted by news reports of a lesbian knife fight."
Photo:
KGW