Dudes, the whole collection is worth looking over. I was in tears laughing. - Hat tip:
I am Bored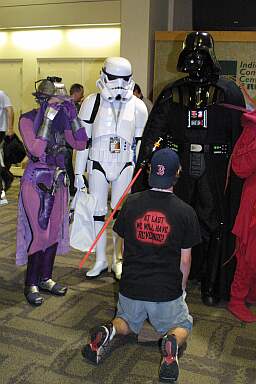 1. "Impressive. Most impressive. Obi-Wan has taught you well."
2. Later that night, Andrew Sullivan was able to cross another fantasy off his list.
3. The Empire apparently had its own Abu Ghraib scandal.
4. Just proves my point, the World Series was a fluke and the Red Sox still suck.
5. George Lucas would come to regret hiring Gus van Sant to direct Episode III.
(Yeah, yeah, I know... obscure reference.)
6. So, that's what "nerf-herder" means.
7. "Size matters not. Look at me. Judge me by my size, do you? Hmm? Hmm?"
8.
More Censored Superbowl Commercials:
This spot for Mountain Dew Pitch Black featured the slogan, "Taste the Dark Side."
9. He remembered to turn his hat around. This is obviously NOT his first time.
10. Every once in a while, Lord Vader would pull the Imperial Star Destroyer into an Intergalactic Rest Area for "Hot Trucker Action."
Update
11. Lord Vader's feigned interest in baseball was revealed to be a fraud when he identified the guy servicing him as 'Manny Ortiz.'
P.S. I will probably be revisting the "Hags of the U.S. Senate" Exhibit sometime soon.