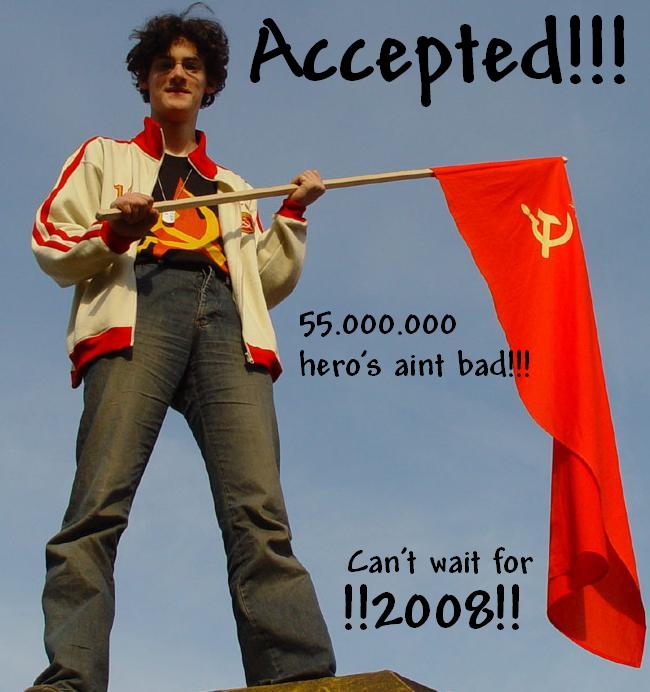 1. After denouncing Zack to the local Kommissarr for counter-revolutionary activities, Screech became the leader of the 'Saved By the Bell' class, and forced Tiffany Amber-Thiessen to undergo revolutionary re-education.
2. "55,000,000 hero's ain't bad" and for Michael Moore, it's just a typical lunch at Subway.
3. This was the picture that won Oliver Stone's heart and secured Screech the coveted role of Jackie O in "JFK II"
4. Who knew Lenin had such comely, child-bearing hips.
5. "... and CNN News is now able to project a winner in the Berkeley City Council Election..."
6. Communist Screech says, "Idler, stop reading decadent captions. The glorious worker's revolution demands productivity!"
7. "I'm not Screech, you idiot, I'm k.d. lang!!"
8. Loser Haiku:
Soviet Union
Dead Since 1991
What an idiot
9. Due to a badly out-of-date misunderstanding of the term "Red State," the Kerry campaign sent this poor fellow to campaign in Texas. He was never seen again.
10. Bright colors. Classic Styles. Youthful models filled with Proletarian Vigor. It must be Commie Hilfiger.